BIG and BIGGER
Jeff Gonzales & Wanda Houston
Ragtime, Delta and Original Blues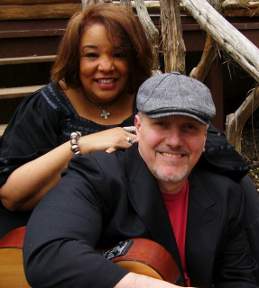 These two talents came together in the Spring of 2010 and forged a bond seated in a blues that will take you back to a time and place where the pace is slow, the mud is red and the heart longs to beat free. Their music and commentary will at times be educational, at other times informational, still other times brash and bawdy, but at all times entertaining. Their duo expands to a rhythm quartet when needed to accommodate larger venues and parties upon request.
Our first CD, "Big & Bigger Live" (left) contains 9 original songs that Jeff wrote for Wanda as a part of their "Big & Bigger" duo. Their second CD (right), "Live in Stockbridge", consists of old blues and jazz tunes, and the third CD, "Live, Again" (below, left) is another eight originals written for Wanda.
JEFF GONZALES is a guitarist, singer and songwriter who has played ragtime blues, bluegrass, folk old time tunes, sing-alongs and his own original styling's for audiences across the country for most of his life. He has appeared with Greg Brown, Livingston Taylor, David Grissman, Peter, Paul & Mary and many more. To learn more about Jeff, visit his website at: www.jgonz777.com
Wanda Houston is a professional singer, actress and song stylist who has traveled the stages of the world searching for the perfect song and performance. Her travels brought her to The Berkshires in 2001 where she has continued to "search" in Musical Theatre, Jazz, Gospel, R&B, Blues, Folk and Rock-'n-Roll.
---

Return to top of page
For contact or bookings please call (413) 248-5019
or email to: wandahouston27@yahoo.com
Wanda World Site Map
---