This is...WANDA L.'S WORLD
Jazz performances, along with all other musical styles, came to an abrupt halt in the Spring of 2020. The two articles and three videos on this page are a reminder of Wanda's jazz work in 2018 and 2019 -- one that she will be continuing as we return to normal.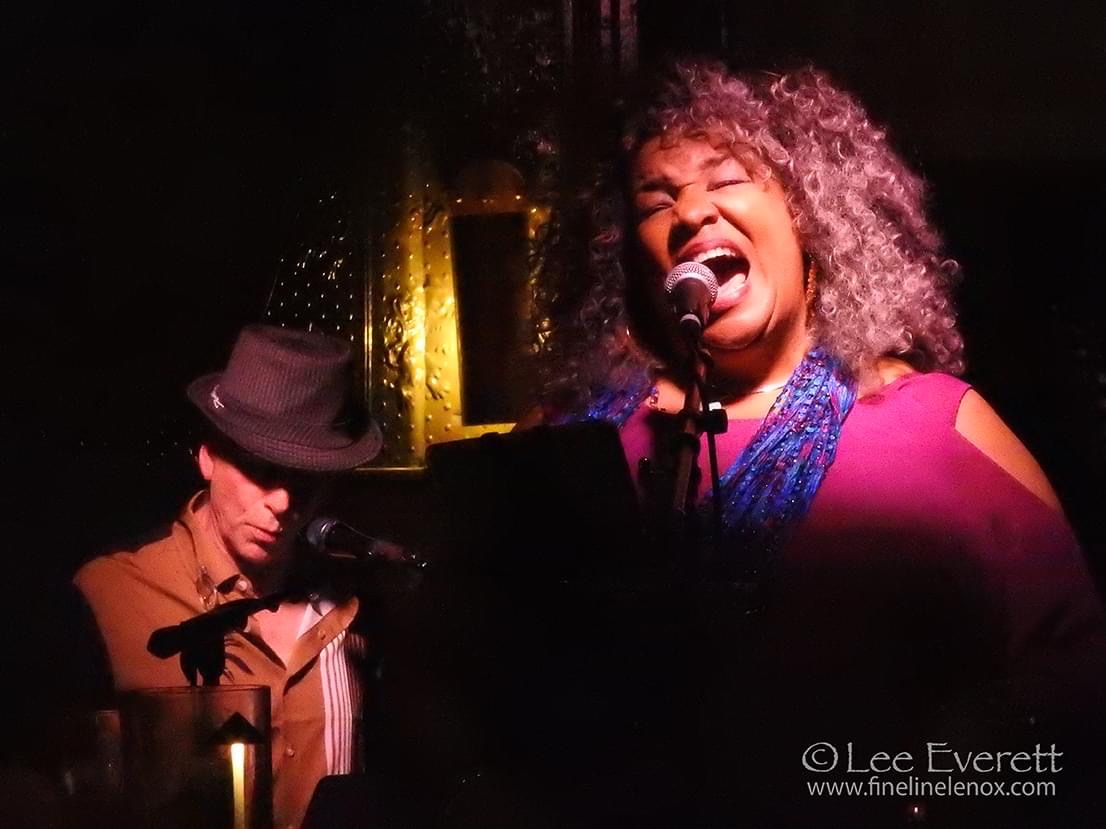 BERKSHIRESTYLE (an online resource)
"Wanda Houston", by KATHRYN BOUGHTON
October 25, 2018
Ask Wanda Houston where she comes from and she hesitates. A few moments later it becomes obvious why. She's been just about everywhere.
But it is also clear that the singer with the big voice has not lost her joie de vivre and curiosity.
"I've always had that travel bug," she said, "and I still, have it. I've got a whole new bucket list."
Houston, who was actually born in Chicago to a father who ran his own theater company and a mother who directed the church choir, fully embraced the performance heritage of her family. She has enjoyed a career that has taken her around the world. But perhaps improbably, this woman who has performed on stages internationally and lived in major metropolises on three continents has, for more than a decade increasingly made her home and forged her career in the Berkshires.
"When I was a child, my family would go camping, and we would drive through these little towns and I would think, "What do people do here? Now, I know," she said. "I love living in a small town. I'm having the time of my life."
"Stormy Weather"
Wanda with Eugene Uman, Dave Pichi
and Jon Fisher at Firefly
Which is not to say that she hasn't enjoyed her time in big cities. "I love both the city and the country," she said. Getting "lost" in the Berkshires, discovering new little towns and breathtaking panoramas is paralleled by her appreciation of cityscapes. "There is a place on 34th Street [in New York City] where, if you catch the sun at just the right time, it shoots right down the road and you can just soak in the sun. My friends will laugh and say I am "pulling a geographical," but you can go anywhere and be anywhere if you know who you are. The beauty of it, is we can come back here."
Coming back is a large part of Houston's life right now. She is kept busy touring the East Coast from Florida to Maine, maintaining a grueling schedule of appearances, the next one of which will be November 1st at the Colonial Theater in Pittsfield MA when she will perform in a tribute concert to Aretha Franklin.
Houston explains that her transfer from big city performer to rural chanteuse began virtually remarked in 2001. She had been living and working in New York for years after moving there from Australia. "I had almost stayed in Australia," she explained, "but I thought, I haven't lived in New York yet. I wanted to do that before I got too old."
She settled into the New York City scene, appearing in numerous venues. "It closed out my youthful bucket list. I worked on Broadway, off Broadway, underneath Broadway, over Broadway. I did all kinds of crazy stuff."
"I opened Macy's Thanksgiving Day Parade, sang at Liza Minelli's wedding, crazy stuff."
The big shift began in 2001, two weeks before 9/11, when her friend, Michael Berkeley, invited her to appear in his annual "Diva" revue at Sharon Playhouse. That led to multiple visits and appearances on the Sharon stage.
It was while she was appearing locally in Ain't Misbehavin' in 2006 that drummer Jay Bradley suggested she move full time to the Berkshires. "He said he thought we could get some work," she recounted. "And I was like, 'Where?' But I had already started singing at the Wake Robin Inn and he took me around, and that was how the HBH Band (Scott Heth, Jay Bradley and me) came to be formed. Thirteen years and many performances into their collaboration, the trio is now cutting an album.
video credit: Jon Potter
"I've Got It Bad"
Wanda with the Clair Arenus Trio
Through Heth and Bradley, she met another group of musicians in Great Barrington and formed the Wanda Houston Band with Robert Kelly, Jeff Stevens and Bradley, who plays with both bands. "Now we're playing all up and down the Eastern Seaboard, from Florida to Maine," she said, rattling off a series of upcoming dates that would have most people asking, "Where am I today?"
In addition to the November 1st tribute to Aretha Franklin, she will appear November 3rd at the Berkshire Hills Country Club in Pittsfield with Michael Brown at the NAACP Freedom Fund Awards Dinner; at regular local gigs at such venues as the Firefly Inn, Gateways Inn and The Barn in Lenox, MA; No. 10 in Great Barrington; at the Red Lion Inn in Stockbridge; with Samirah Evans doing classic duets at the Next Stage in Putney, VT on November 14th and finishing out the year at the Fife 'n Drum in Kent on New Year's Eve. In between singing, she carries on her role as the choir director for the Goshen Congregational Church.
And that is her "off-season" schedule. "In the summer, oh dear God!" she said. "Jay Bradley was right. I am far busier here than I could be in New York City."
The singer has found an odd symmetry in her move to the Berkshires. She remembers that as a young child, "just shy of being a spark in my daddy's eye", she watched the movie, Alice's Restaurant. "I loved it," she recalls. "All those black people and white people, all living together. I wanted to be in that place. Now, I live in Sheffield and my neighbor's family was in that movie. I have played at the Guthrie Center in that church. When the 50th anniversary of the movie came around, it was like, "Oh my God, I'm here. I'm home." I've been wanting this since I was a kid. I'm just glad to be here."
She said she finds satisfaction everywhere. "I love opening and closing the music season at The Mount," she said. "I always loved Edith Wharton and I can't believe I get to sing on her back porch. This is the most beautiful place to live. I could not be happier."
---
'Wanda World' takes root in Berkshires
Wanda Houston's voice continues to resound in these hills
By Benjamin Cassidy, The Berkshire Eagle
(Benjamin Cassidy can be reached at bcassidy@berkshireeagle.com, at @bybencassidy on Twitter and 413-496-6251).
Wanda Houston is such a fixture in the Berkshire music scene that some observers assume she's been here forever.
"It's like, 'No, honey. You have no idea,'" Houston said, laughing. "You know that song, Johnny Cash, 'I've been everywhere, man.' Story of my life. I've been everywhere."
On this particular Tuesday night, the singer was in Great Barrington, answering questions after a rehearsal with clarinetist Paul Green and host Robert Kelly, who was on the keys. The trio would be performing a benefit show that Saturday night at Mr. Finn's Cabaret in Pittsfield, raising money for Rites of Passage and Empowerment.
video credit: Joe Belmont
"Come Together"
Wanda in the Joe Belmont Experiment
Houston, as usual, was also preparing for a slew of upcoming Wanda Houston Band performances. Featuring Houston, Kelly, Jeff Stevens and Jay Bradley, the group was scheduled to play at Firefly Gastropub in Lenox on Saturday, Oct. 12, Old Parish Church in Sheffield on Oct. 13 and Number Ten in Great Barrington on Oct. 18. While there may have once been a time when Houston would belt to just a couple of spectators at local gigs, over the past 13 years, the Sheffield resident has built a passionate Berkshire fan base who now regularly make her shows festive occasions. She calls them citizens of "Wanda World."
"'Wanda World' is really like the insanity that is my existence," Houston said. "I have lived a very charmed life, and this has been the best, finding my niche here and finding these incredible people who have been supportive and loving."

Houston was raised in a creative Chicago family. Her late father, John, was an actor, and her mother, Bessie, was an actress and singer. So, Houston has always felt at "home" in theaters, as well as in churches.
"Church and theater are really kind of the same thing," she said. "Theater grew out of the church, so it has that same energy. It's to make people go in for a while and forget your troubles for just a minute."
Her mother directed the church choir, and though Houston's song choices with The Wanda Houston Band and the HBH Band (her Connecticut group) span jazz, rhythm-and-blues, rock, blues and country, gospel is still her voice's greatest influence. She developed it during her years singing in the church choir.

"It's the first place where you learn to interpret and to feel where the words and the music mean something, and you need to communicate that to the people," Houston said. "It informs everything that I do because now everything that I sing has that importance. It's not just about singing a song. It's about communicating it from my heart to your heart."
Houston idolized Mahalia Jackson during her youth. Sarah Vaughan, Ella Fitzgerald and Barbra Streisand were influences, too. But Houston didn't set out to become a professional performer. "I thought I would do it on the side, or for fun," she said.
When she arrived at Ripon College in Ripon, Wisc., she wanted to be a lab technician. Then she took chemistry."Maybe not," Houston said of her original pursuit.
Soon, she was earning a music degree, studying opera. She thought about heading to The Juilliard School in New York City, but ultimately decided that she wasn't yet ready for the Big Apple. After college, she ended up in Los Angeles. She spent the next two decades there.
"It was what I needed at that time, something completely different," she said.
Finding roles in a couple of movies (one was "The Christmas Path" with a very young Shia LaBeouf), TV, theater and bands, Houston coupled her artistic interests with corporate jobs to support herself.
"I was always the front office girl. The last corporate job that I had was as a property manager, managing office buildings," she said.
She liked that position and was serious about getting her MBA, but a part in "Beach Blanket Babylon" at Las Vegas' Sands Hotel and Casino, the famous Rat Pack haunt, delayed that ambition. After a year in the desert, she returned to LA, eventually landing in a Michael Jackson-produced, internationally touring show, "Sisterella," as one of the wicked stepsisters. Among other places, the piece traveled to Australia; Houston loved Melbourne and considered staying. It wasn't long, however, before she was acting in the musical satire "A Good Swift Kick" off-Broadway, fulfilling her dream of living in New York City.
"Ms. Houston is terrific doing a torch ballad about codependence, one of the few numbers in which style and content comment rakishly on each other," The New York Time theater critic Ben Brantley wrote in an otherwise negative review of the play in 1999.
Perhaps Houston's most prominent New York City theater performance arrived in 2005 when she played "the Negro woman" in a Broadway production of "A Streetcar Named Desire" that starred John C. Reilly and Natasha Richardson. Director Edward Hall expanded Houston's role in this version of Tennessee Williams' famous work, allowing her to open the show with some soulful sounds as a means to set the New Orleans scene. She also sang between breaks.
"He kept calling me the spirit," Houston recalled.
The play's run wasn't very long, though, and Houston found herself performing in "Ain't Misbehavin'" at the Sharon Playhouse during the summer of 2006. Chicago friends first brought her to the Sharon, Conn., theater in 2001. Houston had traveled throughout the country with her family and on her own, but she had never spent much time in New England until then.
"I don't know what it is about New England, but it is just lush and beautiful," she said.
Bradley was the drummer for "Ain't Misbehavin'." Houston recalled him advising her to stick around after it closed. He gave a car-less Houston a tour of the region.

"OK, well, I'll give it a couple years," she thought.
That was more than 13 years ago. She kept her New York City ties alive for some time, participating in Broadway Inspirational Voices, before realizing she would not be returning there permanently. At first, she resided in northern Connecticut and performed locally. She hit up the Egremont Inn and Napa initially. She also began directing a church choir in Goshen, Conn. "That was what made me realize that I could make a go of living up here, was that I got that church gig," she said.
Her first group was Heth, Bradley & Houston, which is Connecticut-based. The Wanda Houston Band formed more than a decade ago; it currently has recurring appearances on second Saturdays at Firefly and third Fridays at Number Ten. Houston has also sung in a blues duo, Big and Bigger, with Jeff Gonzales, but defining her as a blues or jazz singer would be a mistake.
"I'm an entertainer. I am not any one kind of singer, and people try to pigeonhole me," she said. It's not genre but quality that leads her voice.
"There's only two kinds of music in the world. There's only two: good music and bad music," she said. "And I just try to do the good music."
---

Return to top of page
For contact or bookings please call (413) 248-5019
or email to: wandahouston27@yahoo.com